Ham Radio Course - Application Details
Interested in Amateur Radio (Ham Radio)?
Read about the project below and then click the

Apply

button at the bottom!
Check out this great opportunity!
Recruiting for the 2023-2024 Academic Year (Sept-May) cohort (Wave 2) is now underway! Wave 1 Classes are in progress.
For this next cohort, the National Radio Astronomy Observatory (NRAO) will be looking for 20 learners (18-20 years old) with an interest in learning about the electromagnetic spectrum (EMS) and amateur (ham) radio--including obtaining amateur radio licenses!
Applications for fall 2023 are now closed.
If you are selected to be a part of an EMS/Ham Radio cohort, you will: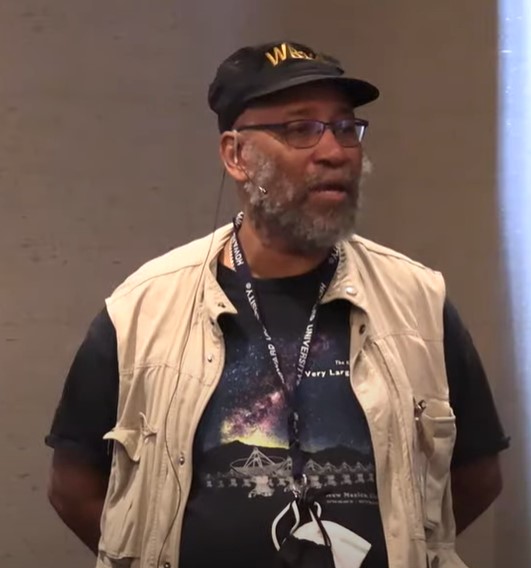 Jesse Alexander, he/him, WB2IFS/3
Ham Radio Project Lead
Additional features of the opportunity include:
What would be your obligations?
We are looking for learners who are excited about technology, electronics, and science. We are also looking for learners who will stick with the program. [When you are working on your application, remember to let us know why this opportunity is important to you, and why you will commit to the program].
How will this program work?
Why learn about amateur (ham) radio?
Recent science fiction shows like Stranger Things and The Quiet Place feature people who need to communicate across long distances without the benefit of cellular telephone technology. In Stranger Things (set in the early 80s), cellular networks didn't yet exist, and in The Quiet Place, the world (and its technology) has fallen to an alien invasion. Even though these are science fiction stories, the technology used to communicate in both (amateur radio) is real, and still in use today.
In real world scenarios – where disruptions to communication might occur due to extreme weather, wildfires or volcanic eruptions – amateur (or ham) radio has at times been the only mode of communication possible.
Ham radio operators also provide non-emergency communication support for marathons, walks, parades, and other community gatherings.
As well, many amateur radio operators are involved in open-source, citizen science activities--including weather monitoring, ionospheric analysis, satellite communication, and the development and testing of new modes of wireless communications.
People with amateur radio licenses participated in the development of the cellular network, satellite communication, and, of course, radio astronomy.

If you have a strong interest in electronics, wireless communications, physics, engineering, and/or astronomy, this opportunity is for you!
What will I need to have to be eligible to participate?
All required lab equipment and training will be supplied as part of this opportunity!
About the Application (Open now!)
Thank you for your interest in the Exploring the Electromagnetic Spectrum (EMS) / Ham Radio Project. Before completing this application, we strongly encourage you to review the information detailed above.
Your understanding of that information should help you prepare a strong application and should answer questions that you may have. The form may not allow you to save the questions and return later, so we encourage you to prepare your responses in a separate document, then enter the information in the form when you are able to complete the form in one sitting.
Important things to keep in mind: